Главная
→
English version
→
Productions
→
Block making machine (vibropress)
→
Rifey Polus
Rifey Polus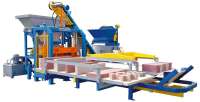 Цена: 2 730 000,00 руб.

Designers of the complex "Rifey-Polus"set themselves a task to design equipment which would produce a wider range of concrete building materials by cubic vibrocompressing, and they hit the target perfectly. This line allows producing wall blocks and cover stones, paving slabs, garden lattice, members of engineering constructions and improvements, and a lot of other items. Dimensions of the output products are restricted by the area of block making machine forming, in this case its dimensions are 1000×500 mm, and the height is 50-250 mm.
"Rifey-Polus"is a highly productive complex operating in a semiautomatic mode.
While designing this equipment the designers took into account that it operates in underdeveloped construction industry infrastructure, so all its components are unified and abundant. Bump, or in other words, shock vibration is employed in the block making machine operation. As a result of this technological innovation, end products exhibit sufficiently high quality.
The line "Rifey-Polus" along with "Rifey-Buran" is the only equipment available in Russia to produce road border stone 300х150х1000 in accordance with all GOST requirements.
Shape-forming hardware of complex "Rifey-Polus" can be quickly and easily replaced if necessary. A special loader replacing the mold is employed to readjust it for making other products. The whole procedure takes 1 hour maximum.