About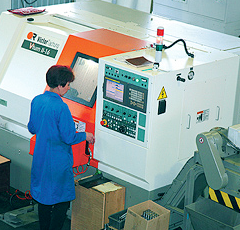 The «Stroytechnika» Zlatoust plant which produces vibrocompressing machinery «Rifey» and «Condor» was established 22 years ago. Within this period the plant's products gained worldwide recognition, and the plant became an absolute leader in producing block making machines for building industry.
A wide range of machinery gives an opportunity to select a variant for any segment of target audience, embracing all price ranges in the building machinery market. The production of both comparatively cheap package units and expensive highly productive complexes is arranged in the plant.
As compared to other domestic and foreign compatibles, vibrocompressing machinery has a lot of advantages. Thus, the price for the line itself and male molds produced by «Stroytechnika» plant is lower than the machinery produced by others. Vibrocompressing complexes «Rifey» and «Condor» are characterized with high productivity, and a wide range of products providing sufficient quality. Due to innovative design and process concepts the machinery is reliable, convenient, and undemanding in operation, control, and maintenance.
Zlatoust block making machines «Rifey» can make you a successful businessman with own production of building units. To arrange the corresponding plant, and to install a vibrocompressing line, one needs a comparatively small area. The production process for concrete units is comparatively simple and available for newcomers. And due to «Rifey» unique technology your products will be competitive.